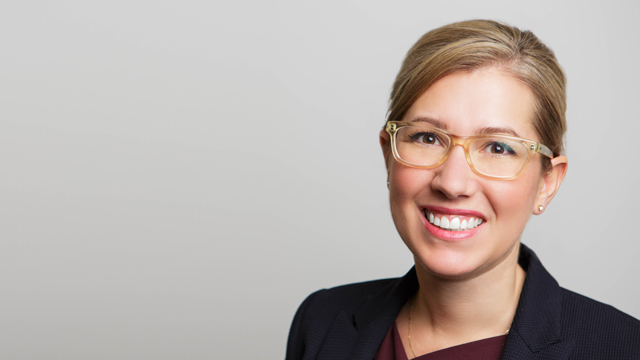 Kathryn Bird is a labour, employment and human rights lawyer in Hicks Morley's Toronto office. She regularly advises public- and private-sector employers, social-service providers and municipalities regarding issues arising from employment relationships and the provision of services to the public. Kathryn appears as counsel before the Human Rights Tribunal of Ontario, labour arbitrators and all levels of court.
Kathryn has successfully defended employers against a wide range of claims including human rights allegations, long-term-disability benefit claims, contractual disputes and wrongful dismissal actions. In addition, she has expertise in education law—particularly special education and accommodation for students with exceptional needs—and she is counsel for school boards and universities in many of the leading cases in this specialized area.
Kathryn provides advice to her clients on a day-to-day basis to assist with avoiding litigation through proactive strategic actions. She has an ability to completely immerse herself in her clients' values and she quickly identifies core issues and uses her subject-matter expertise and clear thinking to negotiate positive settlements and litigate successful outcomes.
Kathryn has been instrumental in forging a vibrant, inclusive culture at Hicks Morley. From creating spaces for other voices, to sharing her own personal and professional insights, Kathryn fosters community through collaboration. Outside of her practice, Kathryn enjoys spending time outdoors hiking, biking and competing in horse shows.
Practice Areas
Awards & Recognition
Lexpert Rising Stars 2020
Leading Lawyers Under 40
Canadian Legal Lexpert Directory (2020–2021)
Workplace Human Rights (Repeatedly Recommended)
Legal 500 Canada 2018
Labour and Employment Law
Memberships & Affiliations
Human Rights Tribunal (Child and Youth Division) Practice Advisory Committee – Member
Ontario Bar Association – Member (Education Law, Labour and Employment Law, and Women Lawyers Forum sections)
University of Toronto – Adjunct Lecturer, Faculty of Law
Select Publications & Presentations
"Review of Recent Notable Human Rights Cases and Developments in the Law" Annual Update on Human Rights, Ontario Bar Association (May 26, 2021)
"Understanding Mental Health Law in the School Setting" Mental Health Law for Children and Youth, Osgoode Professional Development (April 13, 2021)
"COVID-19 Education Law Update – Accommodating Staff and Students" Osgoode Professional Development (May 15, 2020)
"The Litigator's Guide to the Business of Law (in the COVID Crisis)" The Advocates' Society (May 6, 2020)
"Recent Changes to Human Rights Processes – For Better or Worse?" Canadian Association of Counsel to Employers (December 10, 2019)
"Panel 2 – Hush Money or Sound Labour Relations? Confidentiality after #metoo And Other Contentious Settlement Issues" Lancaster House (December 4, 2019)
"Advocating Human Rights Issues" The Advocates' Society (September 24, 2019)
"Addressing Sexual Harassment Issues in Litigation and Employment Law" CCCA Webinar (April 25, 2019)
"Weed in the Workplace" Moving Beyond the Stigma: Cannabis Market Risks and Rewards, PLUS Canada (February 20, 2019)
"Forum Shopping " 7th Annual Human Rights Summit, Law Society of Ontario (December 4, 2018)
"2018 Annual Conference" Faculty Bargaining Services (October 31 – November 2, 2018)
"Annual Update on Human Rights" Ontario Bar Association (OBA) Professional Development (May 31, 2018)
"Leading Mentally Healthy Workplaces" Conference Board of Canada (January 2018)
Education
University of Toronto, J.D.
University of Alberta, B.A. First Class (Hons.) Anthropology