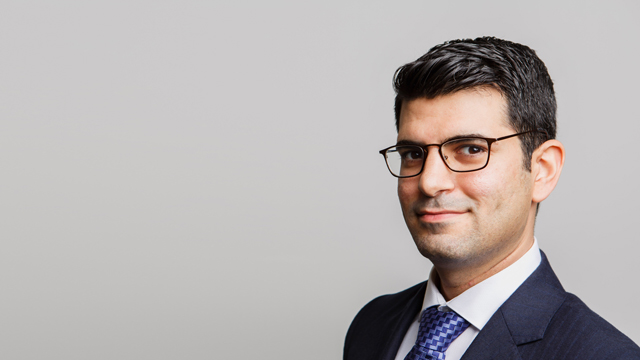 Matin is a data security and privacy lawyer who advises clients on information management, privacy, cybersecurity protocols & incident response, and labour & employment matters. He provides advice to employers and management in both the private and public sectors on data security, information management, contract drafting & review for data transfers, access to information requests and appeals, privacy policy review, and regulatory compliance with provincial and federal statutory law.
Matin frequently guides clients through privacy breach incidents as a breach response coach. He has assisted management in the public and private sectors in navigating legal responsibilities, best practices, and potential liability associated with a cybersecurity or statutory privacy breach. Matin is active in the privacy breach response landscape as he frequently speaks and writes about privacy breach incidents and reporting requirements.
Matin has developed a keen interest and experience in privacy law. Before joining the firm, Matin articled for the Information and Privacy Commissioner of Ontario where he reviewed statutory enactments with privacy implications, assessed data sharing agreements, advised on health law matters, and assisted with litigation before every level of court including the Supreme Court of Canada. During law school, an internship with the Civil Litigation Division of the Department of Justice provided experience assisting with the Government of Canada's privacy-related class actions (including Condon v Canada, since settled for a record amount) and drafting research memos on privacy-related civil litigation. Matin also represented the University of Ottawa's intellectual property law moot teams and wrote his law school thesis paper on personal privacy rights (The Right of Personality: A Privacy Right with Proprietary Value). During his legal studies he received the 2015-2016 Stikeman Elliot Award for achieving the highest annual grade in Administrative Law and was named to the Dean's List in both 2015-2016 and 2016-2017.
Outside the office, Matin is an avid sports fan and distance runner who can be heard speaking in any one of four languages (English, French, German, and Farsi).
Memberships & Affiliations
International Association of Privacy Professionals – Member
Canadian Association of Counsel to Employers (CACE) – Privacy Committee Executive (Federal Representative)
Select Publications & Presentations
"What will a return to work look like Part 1?" Ontario Bar Association (May 12, 2020)
"Privacy, Information Security & Anti-Spam" Osgoode Certificate in Regulatory Compliance & Legal Risk Management for Financial Institutions (February 13, 2020)
"No Longer Just a Movie Plotline: Ransomware & Other Emerging Threats in Healthcare" 2019 PHIPA Connections Summit (December 3, 2019)
"Privacy Law and Access to Personal Information" Toronto Police Services: WSIB Training Session (November 8, 2019)
Education
University of Ottawa, J.D.
University of Ottawa, Joint Honours B.A.