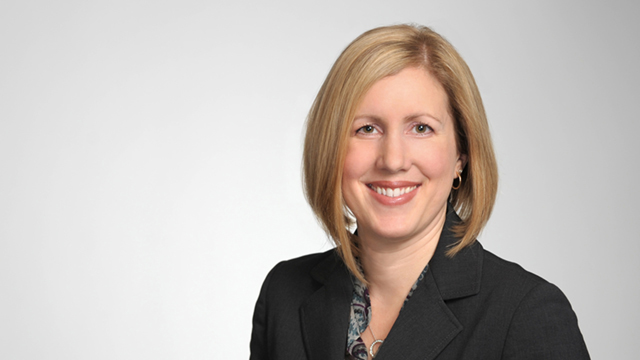 As a pension and benefits lawyer in Hicks Morley's Toronto office, Stephanie advises employers, plan administrators and service providers on all regulatory, governance, compliance and tax matters affecting pension, retirement and group benefit plans as well as incentive plans and compensation matters and cross-border issues.
Stephanie is Chair of the firm's Pension, Benefits and Executive Compensation practice group.
Stephanie has recently advised on EI top-up plans, buy-in annuity purchases, delegated investment mandates, plan mergers and asset transfers and pension and benefits issues arising out of a corporate spin-off.  She represented an employer in the negotiation and establishment of a jointly-sponsored pension plan and is currently advising on the negotiation and implementation of an Employee Life and Health Trust. She frequently assists pension plan administrators with managing the issues arising out of pension division following marriage breakdown and has advised on pension and benefit issues in corporate insolvencies. Stephanie has appeared before the Financial Services Tribunal, the Ontario Superior Court and the Court of Appeal for Ontario.
She is currently the co-chair of the firm's United Way campaign and has climbed the CN Tower several times in less than 18 minutes.
Practice Areas
Awards & Recognition
The Best Lawyers in Canada (2018)
Employee Benefits Law
Legal 500 Canada 2018
Pensions and Benefits Law
Memberships & Affiliations
Association of Canadian Pension Management (ACPM) – Chair, Ontario Regional Council
Financial Services Commission of Ontario (FSCO) – Pension Legal Advisory Committee Member
International Pension and Employee Benefits Lawyers Association (IPEBLA) – Member
Canadian Pension and Benefits Institute (CPBI) – Member
Canadian Bar Association – Member
Ontario Bar Association – Member (Pension and Benefits, and Taxation Sections)
Canadian Association of Counsel to Employers (CACE) – Member
Canada Revenue Agency's former Pension Advisory Committee (PAC) – Member (2005-2006)
Ontario Bar Association – Former Executive Member (Chair of Continuing Education Committee, Pensions & Benefits Section) (2003-2006)
Select Publications & Presentations
"CAAT Benefits Conference" College Employer Council (May 8, 2018)
"Province-Wide Group Benefits – The Game Changer" Education Labour Relations and Human Resources Symposium 2018 (April 27, 2018)
"Decumulation in DC Pensions" Benefits Canada 2018 Benefits and Pension Summit (April 17, 2018)
"Responding to Change, Planning for the Future: Bargaining workplace pension plans, addressing an expanded CPP" 2017 Pensions Conference, Toronto, ON (November 28, 2017)
"A Lawyer's Perspective – Legal Considerations about hot topics in the Pension/Retirement environment" Annual Group Retirement Seminar 2017, Kitchener, ON (November 7, 2017)
"Legislative and Case Law Update: What's on the Horizon for HR and Employment Law" The Conference Board of Canada, Toronto, ON (October 12, 2017)
"Learn How the Enhanced CPP Will Affect Your Workplace Retirement Plan" 3rd Annual Canadian Workplace Pensions Forum (September 27, 2017)
"What does the Future Hold? The CPP Enhancement" ACPM Ontario Regional Council, Toronto (March 29, 2017)
"Marriage Breakdown – Solving the Puzzle" ACPM Federal Council Webinar (November 29, 2016)
"What's on the Horizon for Pension and Benefits:  Legislative and Case Law Update" The Conference Board of Canada, Toronto, ON (October 13-14, 2016)
"Shining a Light on Lost Members" 2016 ACPM National Conference, Charlottetown, P.E.I. (September 20-22, 2016)
"What are Administrator's responsibilities when Pension Plan Members go Missing?" ACPM Ontario Regional Council, Moderator, Toronto (April 28, 2016)
"What's on the Horizon for Provincial Retirement Programs? An Overview of the Ontario Retirement Pension Plan (ORPP)" Conference Board of Canada, Toronto (April 12-13, 2016)
"What's on the Horizon for Pensions? The ORPP" Conference Board of Canada, Toronto (December 9, 2015)
"Executive Employment" 12th Annual Canadian Association of Counsel to Employers Conference, Halifax (September 10-12, 2015)
"The ABC's of ESG: Environmental, Social and Governance Factors in Pension Plan Investing" ACPM Session, Toronto (May 14, 2015)
"Human Rights and Other Legal Issues: A Look at Actual and Potential Litigation" Lancaster House 2nd Annual Pension Conference, Toronto (December 2 and 3, 2014)
"An Age Old Concern – Risks and Considerations of Managing an Aging Workforce" CPBI Ontario Regional Conference, Kitchener (October 2, 2014)
"Complying with Ontario's Pension Regulations: Forms, Details and Real Life Challenges" The Canadian Institute's 14th Annual Advanced Forum on Pension: Law, Governance and Solvency (April 3, 2013)
"Putting it all Together: Applying your knowledge to Real-World Fact Situations" Osgoode CLE: Pension and Benefit Entitlements Upon Marriage Breakdown, The Legal Guide (January 16, 2013)
"Pension Grow-In Benefits: How it will Change your Employee Termination Practices in Ontario" HRPA Conference (February 2, 2012)
Education
Queen's University, B.A., LL.B.