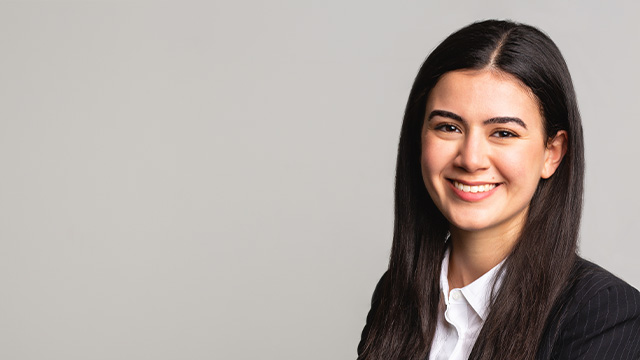 Biography
Madeline Eskandari is a student in the J.D. program at the University of Toronto, Faculty of Law. Prior to attending law school, Madeline graduated with distinction, receiving her Honours Bachelor of Arts from Toronto Metropolitan University with a major in politics and governance.
As a law student, Madeline participated in the 2022 Hicks Morley Moot and the 2023 Laskin Moot. At the Laskin Moot, Madeline wrote her factum and presented her oral arguments in French and was recognized as a top-scoring oralist. Last summer, Madeline worked as a legal research assistant focusing on U.S. constitutional law. Madeline received the 2022 Laskin Prize in constitutional law in recognition of her being the top-ranking student in constitutional law.
Madeline is a classically trained pianist. When she isn't working, she enjoys golf, skiing and reading. Madeline is fluent in written and oral French.