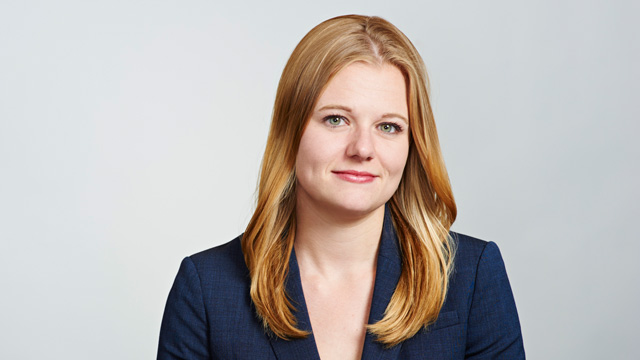 Allison MacIsaac is a labour and employment lawyer in Hicks Morley's Toronto office. While her practice covers all areas of labour and employment law, Allison has particular expertise regarding labour relations in the construction industry, acting on behalf of employers in the elevator and escalator, electrical power systems and HVAC sectors.
A dedicated advocate, Allison is unwavering in her representation of clients on matters including grievance arbitrations, labour disputes, wrongful dismissals, human rights, employment standards and employment contracts. Allison provides proactive and strategic advice to her clients on a day-to-day basis and she regularly advises employers on various issues, particularly with respect to labour relations and an employer's rights and obligations under the Occupational Health and Safety Act. Allison regularly appears as counsel for employers in labour arbitrations and before the Ontario Labour Relations Board and also frequently appears before the Superior Court of Justice and the Divisional Court.
Allison's knowledge of labour relations and understanding of her clients' unique operations enable her to work pragmatically, decisively and efficiently. She appreciates the time constraints employers face and she uses a straightforward approach to provide practical and timely solutions to even the most complex challenges.
As a busy mother of two young daughters, Allison is always on the go. In the rare moments when she finds free time, she enjoys horseback riding and going for runs with her two golden retrievers.
Memberships & Affiliations
The Advocates' Society – Member
Canadian Bar Association – Member
Law Society of Ontario – Member
Ontario Bar Association – Member (Labour & Employment Law)
Victim Services of York Region – Member of the Board
Select Publications & Presentations
"The Implications Under the OHSA for Owners and Employers from the Recent Decision of the Ontario Court of Appeal in Ontario (Labour) v. Sudbury (City)" and "Key Components for a Workplace COVID-19 Vaccination Policy" Ontario Municipal Health and Safety Professionals Association General Meeting (September 24, 2021)
"Recent Employment Law and Labour Law Case Update" Human Resources Professionals Association, Durham Chapter, Labour and Employment Law Conference (June 4, 2021)
"What will a return to work look like Part 2…..When the Dust Settles….." Ontario Bar Association (May 19, 2020)
Education
Osgoode Hall Law School, J.D.
McGill University, B.A. (with Distinction)