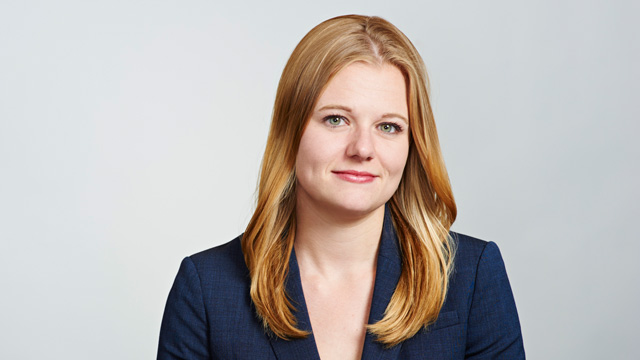 Allison MacIsaac is a labour and employment lawyer at Hicks Morley's Toronto office. She provides advice and representation to both private- and public-sector employers and management on a wide range of labour and employment issues including human rights and accommodation, labour disputes, grievance arbitrations, wrongful dismissals, employment standards and employment contracts.
While in law school, Allison served as a senior caseworker with the Osgoode Business Clinic. Allison was an active member of the Osgoode Mooting Society and participated in multiple advocacy competitions, including the Arnup Cup and the Mathews, Dinsdale & Clark Labour Arbitration Moot, where she was a national finalist. Allison also received the Beard Winter Prize for the highest standing in Trial Advocacy, and the Goodmans LLP and the Charles Edward Woodrow Awards for academic excellence and extracurricular involvement.
Prior to law school, Allison graduated with a Bachelor of Arts in political science and economics from McGill University, where she directed a non-profit organization for special needs children.
Memberships & Affiliations
Law Society of Ontario – Member
The Advocates' Society – Member
Canadian Bar Association – Member
Ontario Bar Association – Member (Labour & Employment Law section)
Victim Services of York Region – Member of the Board
Select Publications & Presentations
"What will a return to work look like Part 2…..When the Dust Settles….." Ontario Bar Association (May 19, 2020)
"Labour Relations 201" Ontario Association of Fire Chiefs, Labour Relations Seminar (January 22, 2019)
"Appellate Court Considers Scope of an Employer's OHSA Obligations to Protect Workers" Canadian Employment Safety and Health Guide (February, 2018)
"Legal Update: Case Law, Legislative Changes & Recent Arbitrations" Ontario Association of Fire Chiefs, Labour Relations Seminar, Toronto (January 17 & 18, 2018)
"Preparing for Ontario Bill 148 – Fair Workplaces, Better Jobs Act 2017" Infonex Professional Development (November 21 & 22, 2017)
"Accommodating The Use of Medical Marijuana in the Workplace" HR Professionals (April 20, 2017)
"Medical Marijuana in the Workplace" International Society of Certified Employee Benefit Specialists, Cambridge, Ontario (November 22, 2016)
"Back to the Future: The Trilogy in light of Fraser – Can or will the Charter Protect Collective Bargaining?"  University of Ottawa Symposium to Commemorate the 25th Anniversary of the Supreme Court of Canada's Labour Trilogy, Knopf, P. (February 7, 2013)
Education
Osgoode Hall Law School, J.D.
McGill University, Bachelor of Arts (with Distinction)