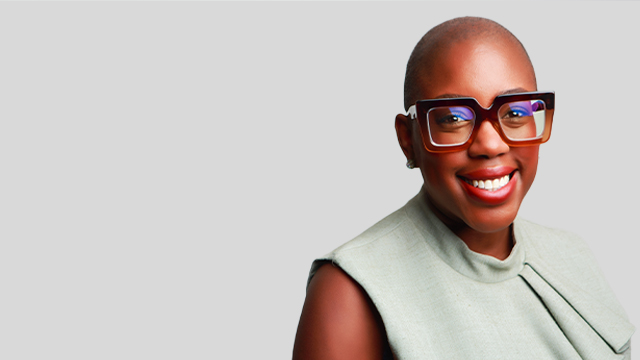 Njeri Damali Sojourner-Campbell is a creative and practical problem solver.
Workplaces are communities.
At their best, they are collaborative, efficient and united. Njeri helps employers realize the potential of their workplaces through the development of polices and procedures; the design and delivery of training for managers and employees; and when the need arises, resolution of legal disputes through mediation and litigation.
Labour Relations
Njeri supports employers in all aspects of the labour relations cycle. She supports and advises on collective bargaining including complex negotiations and interest arbitration for a broader public sector organization. She also regularly appears before labour arbitrators to resolve and litigate grievances under client's collective agreements. She appreciates the importance of balancing the resolution of discrete disputes with the need to maintain productive working relationships between employers and bargaining agents.
Policy Development
Njeri assists employers shape workplace culture through the design of legally sound and values-forward workplace policies and procedures. Her policy design approach is team-based and collaborative and recognizes the importance of policies that are reflective of the client's culture; not merely templates.
Strategic Advising: Human Rights and Equity
Prior to her legal career, Njeri was employed as a Human Rights and Diversity Advisor at a community college. She combines this practical experience with her legal knowledge to support clients faced with complaints, publicity and litigation in these areas.
Litigation
Njeri regularly defends employers before the Human Rights Tribunal, at labour arbitrations and in courts.
About Njeri
Once a youth activist, Njeri now devotes her civic engagement time to mentorship. She believes in the transformative power of legal professionals, and is committed to creation of a more equitable professional community. Immediately after her Call to the Bar in 2015, Njeri founded UJIMA Mentorship Circle, a supportive space for Black female-identified students and lawyers. Through UJIMA, Njeri leverages her professional relationship to forge bonds between her mentees and experienced practitioners and members of the bench.
In her spare time, she can be found sampling artisanal teas and craft stouts, reading and reviewing science fiction and fantasy novels, and collecting Isaac Asimov books for her wife.
Awards & Recognition
Top 100 Accomplished Black Canadian Women (2020)
100 Accomplished Black Women From Across Canada
Dean's Gold Key Award (2014)
Osgoode Hall Law School
Stringer LLP Essay Prize in Labour Law (2014)
Osgoode Hall Law School
Memberships & Affiliations
National Employment Law Council Academy – Fellow (2019)
Ontario Bar Association – Executive Member of the Labour and Employment Law Section – Technology Liaison (2016-17)
Canadian Bar Association – Member
Canadian Association of Black Lawyers – Member
The Advocates' Society – Member
Select Publications & Presentations
"Anti-Discrimination Intensive Program"  – Legal Seminar on Social Justice Based Legal Praxis – Osgoode Hall Law School, York University (January 17, 2020)
"Human Rights Risk Management for Managers" – Annual Legal Seminar – Humber College (February 3, 2020)
"Lawyering Using an Anti-Racism and Anti-Oppression Lens" – Osgoode Law School (February 25, 2020)
"Significant Pressure Points in Public Education" –Certificate in Human Rights Law for Education Professionals Program – Osgoode Professional Development (March 4, 2020)
"Human Resource Legal Issues for Education Professionals" – Legal Seminar – Osgoode Professional Development (May 11, 2020)
"Human Rights: Remedies" – Osgoode Certificate in Human Rights Theory and Practice – Osgoode Professional Development  (May 28, 2020)
"Legal Strategies to Address Racism and Racial Discrimination" – Legal Seminar – Association of Municipalities of Ontario (July 24, 2020)
"Substantive Overview of the Human Rights Code and the Life of an Application" – Best Practices for Paralegals before HRTO – Law Society of Ontario (October 6, 2020)
"Addressing Systemic Anti-Black Racism in Workplaces" – Employment Summit Conference – Law Society of Ontario (October 15, 2020)
"Employment Human Rights Webinar" – Social Services Webinar – Hicks Morley LLP (October 22, 2020)
"Human Rights Code and Responsibilities of Catholic Schools Boards to Support Students"-  Equity and Inclusive Education Part 2, Session 1 – An Ontario Catholic District School Board (November 3, 2020)
Education
Osgoode Hall Law School, York University, J.D.
York University, M.Ed.
York University, B.A. (Hons.)