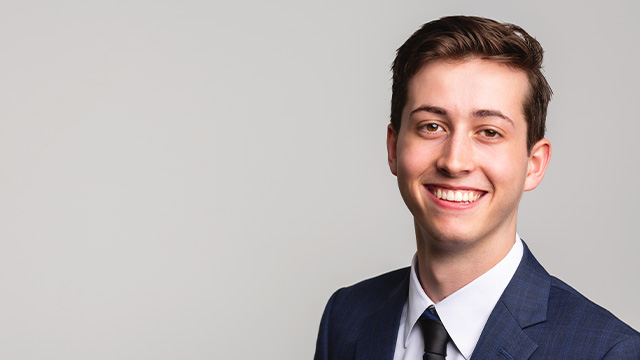 Summer Student

, Lincoln Alexander
Biography
Christopher Howard is a dedicated second-year student at the Lincoln Alexander School of Law and a recipient of the Dean's Honour Roll for his double major in economics and psychology from Queen's University. During his studies at Lincoln Alexander, Christopher participated in four moot competitions and he volunteered with Pro Bono Students Canada, helping individuals navigate tenancy issues. With a strong commitment to providing exceptional service, Christopher aims to become a trusted legal professional and advocate for his future clients.
Christopher's studies have focused on public-sector labour relations, stakeholder management and conflict resolution. He recognizes the importance of balancing competing priorities and interests and he is committed to working closely with clients to achieve their goals efficiently and cost-effectively. His approach involves gaining a deep understanding of his clients' needs and developing tailored solutions to address their specific issues. Christopher is passionate about becoming a legal professional who is dedicated to providing high-quality service to meet each client's unique needs.
Outside of his studies, Christopher enjoys playing squash, going to the gym and watching sports. He is also actively involved in charitable initiatives including volunteering with Relay for Life, raising funds for cancer research, and encouraging others to contribute to the cause. Christopher believes that giving back to the community is an essential part of his role as a future lawyer and he is committed to making a positive impact on the lives of others.