Hicks Morley Recognized by Chambers Global 2014
Hicks Morley is pleased to announce it has been named in the Chambers Global 2014: The World's Leading Lawyers for Business as a leading specialist practice for Employment & Labour and Pensions & Benefits in Canada. In commenting on the firm, sources have stated, Hicks Morley is "A premier management boutique in Toronto."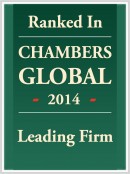 Below is the Chambers Report on Hicks Morley.
Employment, Labour & Pensions: Canada
THE FIRM: A strong presence in Ontario for labour and employment and pensions and benefits matters. With five offices across the province, the firm continues to attract new personnel and is highly regarded for labour litigation. Other areas of expertise include workplace safety and insurance, information and privacy and pension plan design, administration and compliance.
SOURCES SAY: "A premier management boutique in Toronto."
KEY INDIVIDUAL: Lawyer Stephen Shamie advises both public and private sector employers and specialises in hospitality, industrial and public sector collective agreement negotiation. "He is excellent," sources agree.