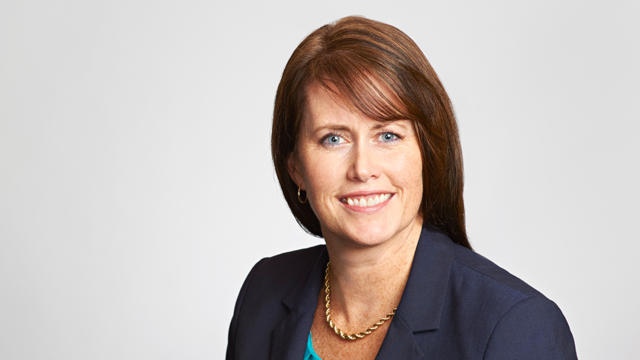 Kathryn Meehan is an employment and labour lawyer at Hicks Morley's Waterloo office. She represents clients before the courts and administrative tribunals, including the Human Rights Tribunal of Ontario, the Workplace Safety and Insurance Appeals Tribunal and the Ontario Labour Relations Board. Kathryn practises in all areas of labour and employment law, advising a wide variety of public- and private-sector employers. She also works with clients to ensure best practices, delivers training and provides advice on a pro-active basis before it becomes necessary to exercise her advocacy skills.
Kathryn graduated as the gold medalist from the LL.B program at the University of Western Ontario and subsequently obtained her LL.M. from the University of Cambridge, England. Prior to joining Hicks Morley, she completed her Master's of Industrial Relations at Queen's University and subsequently worked and taught in the field of human resources. Kathryn spent her articling year as a Clerk at the Court of Appeal for Ontario.
Kathryn is very active in her community. She is a frequent speaker on human resources law-related topics. She has been a part-time faculty member at Fanshawe College, Conestoga College and the University of Waterloo in the Human Resources Management programs.
Awards & Recognition
Canadian Institute for Advanced Legal Studies (2004)
Awarded a full scholarship to obtain her Master of Laws at the University of Cambridge
Memberships & Affiliations
Human Resources Professional Association of Ontario – Board of Directors of Grand Valley Chapter
Human Resources Professional Association of Ontario – Former Member of the HRPA Appeals Committee
Conestoga College – Member of the Program Advisory Curriculum Committee
Advocates Society – Member
Ontario Bar Association – Member of the Labour & Employment Law Section
Kitchener – Waterloo Law Association – Member
Canadian Bar Association – Member
Select Publications & Presentations
"Employee Relations PNG – Legislation and Case Law Update" HRPA Grand Valley Chapter (November 27, 2018)
"19th Annual Employment Law Summit" Law Society of Ontario (October 30, 2018)
"Legal and Practical Implications of Legalized Marijuana for Employers" Canadian Association of University Business Officers (CAUBO) Conference 2018, Vancouver (June 10-12, 2018)
"A New Era in Workplace Safety and Insurance Law" Ontario Bar Association (OBA) Professional Development (May 16, 2018)
"Legal Update" South Central Human Resources, Kitchener (November 6, 2015)
"Off Duty Misconduct" Canadian Bar Association, Webinar (October 15, 2015)
"Disability Insurance Claims – Untangling the Issues" Lancaster House, Webinar (October 8, 2015)
"Legal Update" Grand Valley HRPA Kitchener (September 22, 2015)
"Employment Law Update" Guelph HRPA Guelph (September 17, 2015)
"Amendments to the Employment Standards Act" International Employment Law Newsletter (July 24, 2015)
"Top Five Human Rights Decisions of 2013" Canadian Bar Association – Perspectives (March 2014)
"Random Drug Testing, Absent Reasonable Cause, Violates Collective Agreement" Ontario Bar Association, vol. 12, no. 2 (April 2010)
"McGill University Health Centre: Some clarification on discrimination and the duty to accommodate" Canadian Labour and Employment Law Journal, Vol. 13, No. 3 (2006-2007)
"Falling Through the Cracks: The Law Governing Pregnancy and Parental Leave" Ottawa Law Review 35(2); 211-254 (2004)
Education
University of Western Ontario, LL.B.
University of Cambridge, LL.M.
Queen's University, B.A., M.IR.